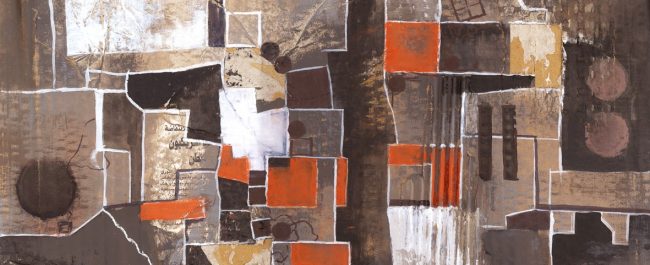 Aberdeen Artists Society 2022 Exhibition
Victoria Fifield, one of our artists currently working on Open Road's Safe Harbour: Open Sea project, has three original art pieces showing in the upcoming Aberdeen Artists Society's 2022 Exhibition.
The Aberdeen Artists Society have curated the exhibition from works by UK based artists. There will be art works to inspire all, with mediums ranging from paintings and drawings to video and sculpture. Produced in association with Aberdeen Archives, Galleries and Museums, the exhibition will be open to the public from the 16 April to the 3 July.
Victoria's three pieces, From Above – Nablus 1, Life and Death, and Breaking Chains, come together to form a snapshot alluding to her experiences of working and living in the Middle East. The contrasting and unique narratives woven into each work are highly thought provoking, whilst Victoria's use of mixed-media across the pieces also demonstrates overlapping themes and connections.
This is the first time Victoria has exhibited her work with the Aberdeen Artists Society and she's looking forward to the exhibition. Victoria says, "it's great to have my work included in such a varied and vibrant exhibition." Click here to find out more about the pieces Victoria is showing as part of this exhibition.
The exhibition will open on Saturday 16 April in Aberdeen Art Gallery, Schoolhill, Aberdeen, AB10 1FQ. There will also be a digital version of the exhibition available.
To find out more about Victoria and her work, check her website: https://www.hipsterspinster.co.uk/