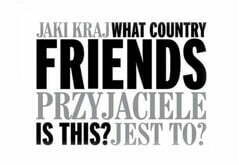 "What country, friends, is this?" "jaki kraj przyjaciel jest to?"
Viola, Twelfth Night. Act 1 Scene 2

"It sounds fanciful, but I would hope that the work would let Aberdeen see itself anew and recognise that change is inevitable and refreshing – that its history is one of change, of ebb and flow; that travellers, incomers and immigrants revivify a place to its benefit." Audience feedback 
What Country Friends Is this? is a performance and community engagement project that focuses on a visit by the King's Players to Aberdeen in 1601. This moment in Aberdeen's history forms the historical framework for the performance project which weaves scenes from Twelfth Night, with stories inspired by verbatim testimonies from the city's Polish community around their experiences of migration and arrival in a foreign land. 
What Country Friends Is This? is being created in partnership with the Centre for Early Modern Studies at the University of Aberdeen who aim to create a long term research project with ambitions towards an international conference around the wider long term ambitions of the project. 
Further project development includes building relationships with people of Scottish heritage in Gdańsk as well as the Gdańsk Shakespeare Theatre and festival. 
The development of this project has been supported by Creative Scotland

Photographs by Simon M Scott  www.simonmscott.com