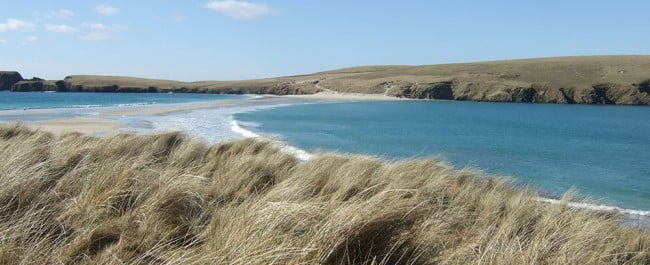 Shetland Easter 2013
Shetland Easter 2013
Live always at 'the edge of mystery' – the boundary of the unknown.
J.Robert Oppenheimer
The subarctic archipelago of Shetland lies 130 miles north of the Scottish mainland and is the most northern point of the British Isles. The 60° north line of latitude passes through south Shetland, but warm ocean currents ensure that temperatures here are milder than other places – Alaska, St Petersburg and Canada's Northwest Territories – that share the same latitude. At this latitude you'll see the sun for nearly 19 hours at the summer solstice, but its light shrinks to less than six hours at its winter counterpart.  'Good' or 'bad' weather is the wrong way to consider Shetland's climate. These islands merely experience 'weather' in all its glory. The rain when it comes is often horizontal thanks to the strong winds that sometimes accompany it, making waterproof trousers as essential to walkers as a waterproof jacket.
March 29 2013. I left Edinburgh on Good Friday – a 9.45am flight. "It's a beautiful day for flying", the pilot told us as we taxied out of town. He was right. It was a beautiful day. Flying north, snow still covered the Cairngorms, the last remains of a hard winter, but the sky was brilliant blue, no wind to speak of and being in the air felt like the best place to be.
With London just shy of 600 miles south, but Bergan in Norway a mere 220 miles east, it's no great surprise that Shetland has stronger links – historical and cultural – with Scandinavia than it does with the rest of the UK. The Danes ruled these islands until 1469 when the hard up King Christen 1 of Denmark and Norway pawned Shetland to the Scots to cover the costs of his daughter Margaret's dowry when she married James the third of Scotland.  Norway made various unsuccessful attempts to buy back the islands up until 1660 and, although Shetland remained firmly within the UK, the ties to its former home remain loyal. During WW2 the so called 'Shetland Bus', an undercover operation to smuggle agents and weapons under cover of darkness in and out of Norway via the North Sea, made regular, treacherous trips between Scalloway on the west side of Shetland to Norway throughout the war.
I was travelling in search of another step north. A paler sky. A faster sunset. A quieter night.  I came for Easter. Looking for resurrection. Unclear if I was running away or towards.  Although Shetland's airport is small, like all airports arrivals is a bewildering place for those who've not yet shaken off where they've travelled from and the dry, recycled air of the plane. When I stepped outside Shetland smelt the same as every other island – sea, seaweed, wind and airline fuel.
Shetland consists over 100 islands, however only 15 of them are inhabited. The main island is the long, thin Mainland which stretches to around 55 miles long and 20 miles wide. Tucked away on the east side of the island is Shetland's capital, Lerwick. Protected by the island of Bressay, Lerwick's natural harbor grew as a herring port in the 17th century and today services the off shore North Sea oil rigs.
I was travelling in search of a place where mobile phone reception is as thin as top soil on cliff tops. In search of primary colours. Blue sky. Yellow land. No shades of grey. Views too long to look in the eye and to distant to understand. A place where a restless sea dominates your peripheral vision and deepest dreams.
A few minutes walk north from the centre of town, the Shetland Museum and Archives sits in the restored Hay's Dock. Here visitors can explore Shetland's rich history and discover the island's folklore, language and traditions.
One of the best places for views in Lerwick is the top of Fort Charlotte, accessed via Charlotte Street. Built in 1665 to protect the Sound of Bressay and Lerwick's harbour, the fort has never witnessed any action and was restored in 1781. For older heritage head a mile southwest of town to Clickimin Broch, an Iron Age broch tower standing guard on the banks of Clickimin Loch.
Fast Fact
The Great Northern Telegraph line passed through Shetland, linking Lerwick with Torshavn in the Faroe Islands with 219 nautical miles of cable and Seydisfjordur in Iceland with 316 nautical miles of cable.
I came in search of wool, stories of knitting, secrets woven into patterns older than the land. Women here knit by sight. They look at you and know by instinct how to create something that fits. The world's faster knitter lives in Shetland and a woman who knitted a fence for her front garden. Instead I found an unravelling. Stitch by stitch falling apart at the mildest of tugs. What was once a pattern, familiar, passed down for generations. One that defined and told a version of history, fell into a tangle of thread.
Back in town, the flagstoned Commercial Street is Lerwick's main thoroughfare and best place for shopping. The famous Shetland knitwear is an enduringly popular gift and comes all in shapes and sizes from scarves, to shawls, to mobile phone covers, to sweaters all with similar varying price tags depending on the skills, intricacy and wool involved.  Shetland knitters have long been amongst the best in the world. Queen Victoria favoured lace stockings from Shetland and when Sir Edmund Hilary conquered Everest in 1958 he was wearing undergarments knitted here.
Wool and related textiles came to Shetland via the Vikings who brought with them their own brand of hardy sheep. Although knitting has a long history on the islands it's by no means stuck in the past and textiles produced today are both contemporary and traditional. The region's rich history of knitting and textiles is all on display and fully explained at the Shetland Textile Museum housed at the Böd of Gremista, a restored 18th century fishing station half a mile north of Lerwick's ferry terminal. Knitting enthusiasts should aim to coincide their visit with Wool Week in late September/early October.
I knew I chosen the right place to stay when the owner of the guesthouse told me he didn't understand early mornings. My room a small, sea facing attic room. Next morning the owner pulled out local history books and talked of Lerwick's harbor once full of herring boats. The town, he told me, once boasted 13 butcher shops – 13! Oil brought people here in 1970s and they're coming again. Everyone looks to the sea to see what's coming – a ferry, a storm, an invader. "It's all change," he told me. "Except for life on Foula. That never changes!"
Heading away from Lerwick, places of interest in south Mainland include the tiny island of Mousa off the east side of Mainland reached via a 15 minute ferry ride from Sandwick. Here overlooking Mousa Sound is Britain's best preserved Iron Age broch. Further south visitors can walk to St Ninian's Isle via a long thin crescent shaped sandbar, fringed each side by impossibly blue seawater.
Continuing south head off the main A970 to Boddam to gain an insight into the old crofting way of life, at the Crofthouse Museum, housed in a restored 19th century croft and complete with peat fire and old box beds.
The Iron Age broch and village of Old Scatness was first unearthed in 1975 and excavations of the site, which butts up against Sumburgh airport, are on going. Costumed guides lead visitors through a tour of the site and its history during the summer.
Best of all at this end of Mainland is Jarlshof, the jewel of Shetland's archeological crown and a sprawling site on the southern tip of the island where the remains of human habitation stretch from the Stone Age to the 17th century. Here prehistoric dwellings swirl underground and rub shoulders with the above ground remains of Viking longhouses. An Iron Age broch shares land with a ruined medieval farmstead and most recent of all, the ruins of a 16th century laird's house. All discovered courtesy of a violent storm in 1897 which 'unearthed' the first remains by unceremoniously washing away a section of the adjacent low cliffs.
March 30 2013. Easter Saturday. "What are your first impressions of the island?"  I'm asked. Barren. But like Jarlshof, there's a labyrinthine of activity just out of sight. Houses have grown little from their Stone Age roots and hug the land. Holding fast. Lying low. A soft dialect compensates for hard winds. A poetic mix of Old Norse, German and Dutch. Once only the Faroe islanders and Shetlanders could talk to each other, now the last person to speak that language has gone. In the Archives the past is preserved in acid free tissue paper. In reality it's alive in flesh, bone, blood and beliefs.
Although human habitation on Shetland dates back to around 4000BC, it's the Vikings who came here in the 9th century who left their mark and whose influence remains strong. Tingwall to the north west of Lerwick is now home to a small airport where inter island flights arrive and depart. However, the Vikings established the equivalent of their parliament here at Ting Holm, a small peninsula that runs into the northern end of Loch Tingwall.
In the 16th century the law of the land moved to nearby Scalloway Castle, whose construction was financed by the tyrannical Earl Patrick Stewart who was eventually executed for treason in 1615 in Edinburgh. From 1600 to 1650 witch trails were held in the castle's great hall with those found guilty burned on Gallow Hill.  Scalloway itself is Shetland's second largest town and was its capital until 1708. Cottages and former homes of lairds and fish merchants hold fast around an attractive protected natural harbor. Scalloway's small museum details the history of the town and surrounding area from ancient times to the present day.
I'd picked up Rebecca Solnit's A Field Guide to Getting Lost before leaving home. I marked the book throughout my trip so I could remember looking back where I was when I read each part. 'On the runway'. 'At the tip of mainland Scotland'. I don't know if it was the book or my frame of mind, but I lost all sense of direction today. I headed south when I thought it was north, east instead of west.  In the end I put the map away and drove until the road ran out.
In the evening I wanted to get lost all over again and headed to the bar at Mareel to read, write and drink. I wrote next to the text in the book "Evening sunshine. Light and rainbows shining through glass".  Here I watched projections of lace patterns rise and fade across pale internal walls.  Outside the harbour and hills sank into darkness. Unlike the sun, I lingered and ordered a second glass of wine. An old Michael Jackson song echoed through the near empty bar. Internet reception was fickle and pointless. I soon forgot what I was searching for.
Heading north Shetland's landscape becomes wild and dramatic and most people travel here to experience the rugged outdoors and rich wildlife the islands are rightly famous for.  Shetland's treeless landscape is barren, but no less beautiful for it. Intricate cliffs battered by both the Atlantic Ocean on the west side and North Sea on the east, hold fast a wild landscape where at no point are you ever more than three miles from the sea. Shetland's coastal landscape is exceptional and its cliffs and white sand beaches popular places to walk. Here birds far out number humans. Common species including puffins and gannets nest in their thousands on Shetland's towering cliffs.
While some of Britain's rarest birds, such as the red necked phalarope, can be found in areas including the island of Fetlar in the far north east.  If time, serious birdwatchers should make a pilgrimage south to the tiny Fair Isle Britain's most remote inhabited island, lying equal distance between Shetland and the Orkneys, although governed by the former. An important staging point for migrating birds, Fair Isle is a rich breeding ground for countless species. Here the bird watching action centres around Fair Isle's bird observatory built in 1948 and rebuilt in 2010.
Other wildlife to be spotted around Shetland include otters, seals, porpoises, dolphins and the occasional orca in the surrounding and inland waters. And, of course, the famous Shetland ponies still, after thousands of years, graze on the island's common land.
Top Tip: Urban Seals
The best place to see seals in Lerwick is on the rocks by the shore in front of Tesco's car park.
Migrating birds know when it's time to leave. Buried deep inside all us this same instinct calls when the same moment. You don't have to travel far. It's easy to migrate or to get lost if you prefer. Head to the nearest place where no one knows you and simply slip through the cracks. Drink alone. Go to the cinema alone. Speak, briefly, only when spoken to. Watch traffic lights change colour on empty roads. Forget time and all you planned to do that day. From this place you can observe body language, your own and others. Hear clearly all that's not being said. You know, without doubt, which parts of the mind, body and soul are breathing and which are starved of oxygen, or simply starving.
On the mid west side of Mainland the cliffs around Wats Ness are one of the best places to walk. More dramatic still, the red granite cliffs of Esha Ness in the Northmavine region have been carved over centuries into spectacular stacks, natural arches and blowholes by the relentless surge of the elements.  Here the Esha Ness Lighthouse offers long views the surrounding coastal scenery alongside the opportunity to stay the night.  East of the lighthouse, and a mile south of the main road, displays at the Tangwick Haa Museum detail the history of this region of Shetland.
An artist I talked to at one point during this trip told me she needed the extremes of light and dark in order to create. Another that come January she just needed to burn things. A creative response to the north lives inside all of us. One that knows all about economy of scale, solitude and the importance of never letting the fire go out. These islands may be dominated by the sea, but in truth it was fire I'd come here to find. The Vikings may bang their chests and burn their longboats for all to see at midwinter, but Hestia, the virgin Greek goddess of the hearth and architecture, heats the heart and history of Shetland – from its underground chambers to its peat burning crofts.
Further north still, and reached via two inter island ferries, lies Unst the UK's northern most inhabited island. Dramatic cliffs, white sand beaches, ruined Norse longhouses and seabirds galore, Unst is remote and about as far away from it all as you can hope to get in all the best ways. In south Unst, east of the village of Uyeasound, stands the ruined Muness Castle, built in 1598 and burned in 1627. To the west, the haunting remains of the Kirk of Lund and its surrounding graveyard over look a suitably wild and windswept, white sand beach.  A more modern and bizarre attraction is the famous Unst bus shelter, otherwise known as Bobby's bus shelter – a fully furnished shelter, known and visited for its ever changing eccentric décor.
Local Legend; The White Wife
According to local legend Unst is haunted by a ghost of an old woman known as the White Wife. Her appearances are rare and when she does it always in the passenger seat of a car driven by a lone male, along the same stretch of deserted road. Some say she appears to drivers who've drunk too much as a warning to drive carefully. Either way she's been immortalized in a local beer named after her brewed at Valhalla Brewery, Britain's northernmost brewery located just few miles from the road the White Wife is said to haunt.
March 31 2013. Easter Sunday. The coldest in the UK since records began. European summer time begins. Leaving. The owners of the guesthouse left golden chocolate Easter bunnies on the breakfast plates. I kept the red ribbon and bell from the neck of mine long after the memory of the milk chocolate faded. I love the final moments of looking around your room, making sure you've left nothing except a dirty tea cup, a wet towel, hair in the shower and an indent of your body in an unmade bed, soon to be plumped away. Living like this you're resurrected every day. A rainbow crossed my hand as I left. It was another good day for flying.
Land runs out at Hermaness Reserve, an important ornithological site at the north tip of Unst. A walk to the end of the peninsula rewards the hardy with views of the tiny islet of Muckle Flugga and Out Stack, the very northern limit of the British Isles. From here the Artic Circle is a mere 400 miles north and, as most most Shetlanders will tell you, this remote boundary is actually the start of the UK and certainly not the end of it.
Shetland understands Easter. It understands underground places where history turns in on itself and turns its back on fresh air. It understands that light and dark need each other to understand each other. You can scream into stone or hold it fast and everyone understands the reasons why. You can unweave patterns you've been handed down to wear, discard lies, secrets and stories that don't belong to you, yet have defined you for so long. Like the thousands of other migrating birds that rest here year after year, you know that leaving is not your fault. It's the natural, and sometimes the only, thing to do.
Tucked into the walls at Mareel is a hansel.
Hansel (n)
"a gift to commemorate an inaugural occasion, the launching of a new boat, the birth of a child, a new home, a new enterprise" The Shetland Dictionary John J Graham
When I got back to the place I call home I made a hansel to remember the trip by – a map, a picture, a stone, a charm, a cork, a wish, or two, a promise to keep searching for Oppenheimer's 'edge of mystery' and the 'boundary of the unknown' all sealed tight within a small glass jar.
Island Day Trips
Papa Stour, the 'great island of priests', is tucked off the far west side of Mainland and reached via an inter island ferry from West Burrafirth or inter island flight from Tingwall airport. Home to less than 20 people, this tiny island is a favourite with walkers and bird watchers and boasts some of the most spectacular geology in the UK including Britain's longest sea caves, the most famous of which is Kirstan's Hole.
Much further west still, 14 miles off Mainland, Foula, which in local dialect means "bird island", is one of Britain's most remote places.  From Mainland, Foula is a distant outline of high cliffs, the second highest in the UK after St Kilda, and famous for its wild flowers. Norse tradition remains strong on Foula and the island's less than 30 inhabitants still follow the Julian calendar which the rest of the UK abandoned in 1752.  According to this calendar Christmas (Yule) is celebrated on 6 January and New Years Day falls on 13 January. Foula is reached via an inter island, weather dependent, ferry from Walls or inter island flight from Tingwall airport.
Nightlife and the Arts
Standing on the waterfront at Hay's Dock next to the Shetland Museum and Archives is Mareel a stunning arts centre with a year round programme of film, live music and other performance events. Mareel is run by Shetland Arts who also look after Lerwick's Garrison Theatre and the Bonhoga Gallery in Weisdale Mill on the west side of Mainland.
Shetland Festivals
The Shetland Folk Festival blazes into life in late April/early May with various other music festivals take place throughout the year, such as Fiddle Frenzy and the Blues Festival.  In June the Bergan-Shetland yacht race flies across the North Sea and back. Other local regattas take place throughout the summer.  In late August/early September the island's film festival, Screen Play is organized by Shetland Arts who also programme a literature festival in November.
Most famous of all though is Up Helly Aa, Europe's largest fire festival which has lit up Shetland's long winters since the 1880s. On the last Tuesday of every January a huge horde of local men dress as Vikings and, following a torch lit procession through Lerwick, descend on the harbor to burn a replica Viking longboat. Celebrations last throughout the night, and needless to say the following Wednesday is a public holiday in the town.
Visitor Information
Shetland's Visitor Information Centre is located at Market Cross in Lerwick.
Where to stay
Fort Charlotte Guest House is a super friendly option in the centre of Lerwick, while Westhall Guest House on the outskirts of town offers expansive views, B&B and a two bed self catering cottage to rent.
Where to eat
Hay's Dock café/restaurant is a modern restaurant within the Shetland Museum and Archives.  The best of local seasonal food is served alongside uninterrupted views of the waterfront.
How to get here
Direct flights via Flybe from Edinburgh, Glasgow and Aberdeen land at Sumburgh airport at the southern tip of Mainland.  Or travel by sea via NorthLink Ferries which operate a regular service between Aberdeen and Lerwick.
Getting around Shetland
Full details of Shetland's public transport system, including buses and inter island ferries and flights can be found at www.zettrans.org.uk. However, if your time is limited and you don't bring your own car via the NorthLink ferry then renting one is the best option. Star Rent A Car have collection points at the airport and port. Bicycle hire is available through Grantfield Garage in Lerwick. Numerous taxi operators are located on Mainland including Shetland Taxies.
© words and images Lesley Anne Rose 2013