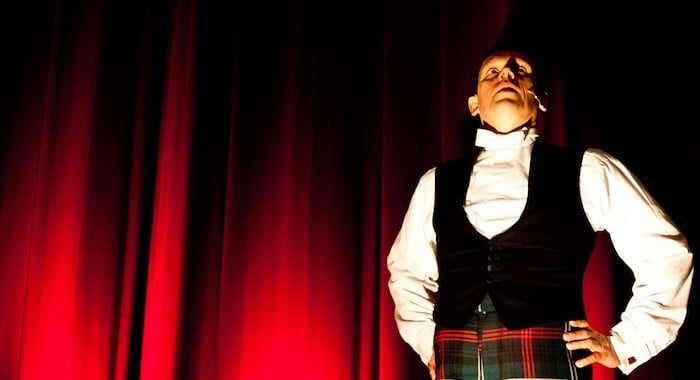 Mr Dickson's Theatre of Ghosts
Mr Dickson's Theatre of Ghosts is an unforgettable blend of archive film, storytelling, traditional stories and live music.
During the Silent Era films were often accompanied by live music and sometimes by a flamboyant Film Explainer. Part narrator, part actor these unforgettable characters were famous in their day. They stood beside the cinema screen and explained the action unfolding – often providing background information, speaking for the characters and bringing their own unique interpretation to the films.
The need for Film Explainers declined along with the Silent Era. Enter stage right renowned storyteller Andy Cannon as Mr MacBenshi*, the star of Mr Dickson's Theatre of Ghosts, a new Film Explainer, steeped in Scottish history and all ready to 'explain' a rich collection of films from the Scottish Screen Archive.  As he breathes new life into this lost art, Andy will be accompanied by cellist/composer Wendy Weatherby and musical director/guitarist and piper Frank McLaughlin. Between them they will weave together a new theatrical and cinematic experience that unites theatre, archive film, storytelling and live music.
The final production will be a touring show for theatre and filmgoers of all ages, which can be performed in both a cinema and theatre context.
Mr Dickson's Theatre of Ghosts is based on Andy's sell-out show The Lost Art of the Film Explainer which was commissioned by the Hippodrome Festival of Silent Cinema in 2012.  Mr Dickson himself was the former owner of the Hippodrome in Bowness, Scotland's oldest purpose built cinema.
The Lost Art of the Film Explainer performed at the Hippodrome Festival of Silent Cinema (2012 and 2013), the Dunoon Film Festival (2013), Dundee Contemporary Arts and the Adam Smith Theater in Kirkcaldy.
Listen to an interview with Andy Cannon talking about the show:
Press reviews for The Lost Art of the Film Explainer:
An exciting and compelling rebirth of a forgotten tradition, Lost Art of the Film Explainer is the perfect introduction to silent cinema for new audiences, while converts should simply add it to their "must see" list.
Reel Scotland
Audience feedback from performances of The Lost Art of the Film Explainer:
I would love to attend more shows with The Film Explainer. I learned so much and the films were brilliant.

It's the quality of the live musical accompaniment to the films that really brings them alive.

The film explaining opened up a world of possibilities.

We loved The Lost Art of the Film Explainer. It was so different and interesting and well done.
Andy Cannon
Andy is one of Scotland's most respected director/performer/writers, co-founding family theatre company Wee Stories. His work in theatre performance, story telling and education has earned him the loyalty and praise of audiences throughout Scotland, the UK and beyond.
Wendy Weatherby
Wendy has worked with many top Scottish musicians including Michael Marra and Phil Cunningham and has also had film scores performed on Channel 4, BBC2 and at the prestigious Celtic Connections Festival.
Frank McLaughlin
Frank is a guitarist and piper who is much acclaimed for his work with celebrated musicians such as Gillian MacDonald and the Mick West Band. Much in demand as a session player and teacher, his recordings credits include major projects such as The Complete Songs of Robert Tannahill.
* Benshi is the Japanese name for a Film Explainer. In Japan they lasted long after the end of silent era and continued to narrate foreign language films before the invention of subtitles.  They were often more famous than the film stars whose films they narrated.