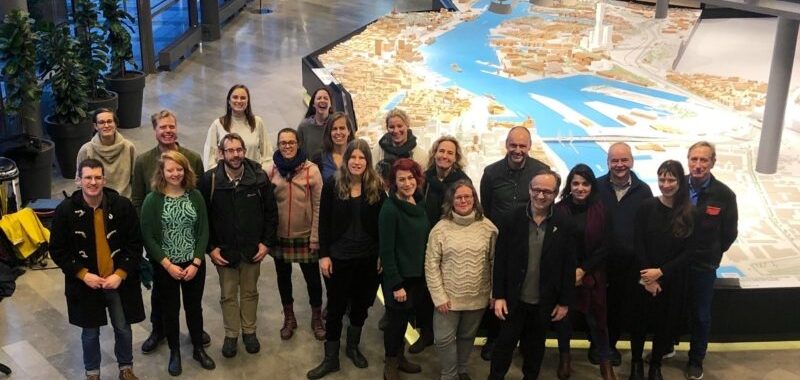 The Open Road team are thrilled to be part of Cultural Adaptations a Creative Europe project, led by Creative Carbon Scotland with partners in four EU countries, on culture's role in society's adaptation to climate, and the Adaptation issues that cultural organisations need to think about.
Lead by Creative Carbon Scotland, Cultural Adaptations seeks to find creative, innovative and place-based responses to climate change impacts, equipping cultural organisations and cities with the knowledge and skills they need.
Through this project Lesley Anne is working as an Embedded Artist with Climate Ready Clyde an initiative to create a shared vision, strategy and action plan for an adapting Glasgow City Region.
Cultural Adaptations will culminate in a conference in March 2021 in Glasgow. This event will share the results and tools of the Cultural Adaptations project, and explore wider knowledge and international experiences of how creativity can help us to adapt. It will showcase unique, innovative and creative approaches to solving complex climate challenges and present new ways of working collaboratively in adaptation. 
The Cultural Adaptations website is filled with information and resources from blogs on the pleasure and pain of long distance train travel for a Europe wide project committed to low carbon travel, to the processes behind Embedded Artist projects. 
Read Lesley Anne's blog for the 4th European Climate Change Adaptation conference held in Lisbon in 2019 on why a new approach to climate adaptation strategic development involving artists is needed here.
Adaptation Scotland's webinar on Creativity and Climate Change covers creative approaches to facilitating engagement; visuals for climate change communication, and embedded artist experiences and features Gemma Lawrence Culture/SHIFT Manager at Creative Carbon Scotland and Lesley Anne. 
In connection with this project, Lesley Anne has also researched and written this foresight report, Climate Ready Clyde – The Value of Partnership. The report forms part of the Connected Clusters project, providing Sustainable Scotland Network members and partners valuable insight into Climate Innovation Clusters in the U.K.