A twist of fate led me to a young man by a riverbank on a damp February night, that meeting saved his life. It occupied a place in my imagination for many years because of it's significance. That in turn brought me back to my own experience of suicide as a young man where I eventually found a great deal of compassion for that younger self. This was the starting point for Angel.

Michael Sherin
Angel is led by Michael Sherin and fuses dance, music and creative writing. The vision for Angel is a small scale piece of dance theatre for a solo performer.
Angel introduces us to a fallen Angel. He's displaced and jaded because he hasn't figured out why he's on his current assignment. And until he figures out what his connection to the lost souls he encounter is, he is doomed to repeat the task ad infinitum, avoid promotion and roam the netherworld in a curious kind of limbo.
Angel is a fable about how our failure to fully embrace the reality of our past and others in our past, binds us to that past in ways that stifle our ability to love, create and live in positive ways. And that only when we see ourselves truly reflected in others, and embrace that reflection, the good and the questionable, are we able to accept our own humanity. We have to lay our ghosts to rest finally, to move forward and flourish.
Angel will be told with humour, wit, pointe shoes and sensitivity, revealing truths about loneliness, loss and the inability to love. The narrative is inspired by Michael's own experiences of suicide as a young man and the subsequent fallout from coming to terms with it as an older man.
I have all sorts of hopes for 'Angel,' words like funny, moving, dark, entertaining, exciting are in my head when I think about it. This is partly my story, but it's not autobiographical.  I want to tell the story whatever it turns out to be with wit, humour and honesty, the odd tutu, some make possibly- up and a pair of gold Doc Martens.

Michael Sherin
Development for Angel has been supported through funding from Creative Scotland and residences at The Workroom in Glasgow, MA scène nationale – Pays de Montbéliard, the Tom McGrath Trust and Imaginate.
The creative team includes theatre maker Luke Pell, dramaturge and writing mentor Luke Sutherland, musicians Robin Mason, Caroline Hussey and Audrey Bizouerne and designer Karen Tennent.
Image credit: Ian Cameron http://iancameron.weebly.com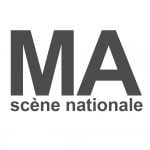 MA scène nationale – Pays de Montbéliard
Supported by a grant from the Tom McGrath Trust