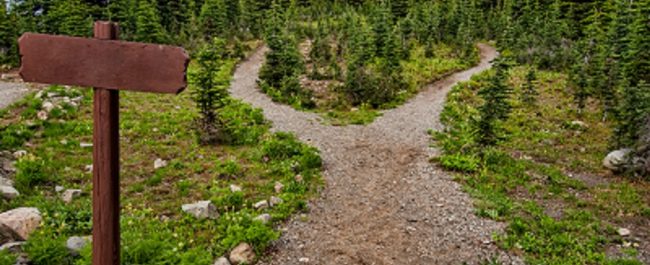 My Life at a Crossroads
Having spent over a decade building a career in various support roles within the cultural sector, I hope that my role with Open Road marks a turning point in my career. I feel now is the right time to utilise my experience in the arts in a different way and perhaps be a little more creative in my own right… but where do I start?
I realise I still have a number of months in my role with Open Road, but having built up some momentum working as a Creative Producer I'm determined to not let this part of my journey turn stagnant when my current contract ends.
As I look ahead at what might come next for me, I suddenly find myself faced with lots of choices. Do I want to jump back into the uncertain world of freelance work? Should I seek out job opportunities which allow me to further my skills and contacts as part of a larger organisation or would I prefer to create my own work and fly solo? I see countless potential partnerships on the horizon with both old and new relationships waiting to be developed. Maybe I'll invest my time pursuing national funding for a large project, or instead I could focus on micro-commissions and short contracts which fit around my personal life and any other projects – after all, like everyone else, I'm juggling work alongside my home life and other commitments.
As I contemplate these potential paths, I become acutely aware of my privilege in this situation. Not everyone has benefited from the same opportunities I've had to date. As uncertain and uncomfortable as I feel standing at this crossroads in my life today, I feel blessed to have been given the opportunities which have brought me here.
The challenge I face isn't as simple as 'finding opportunities'. It's finding the right opportunities. Mutually fulfilling opportunities where growth and development are supported in both directions. I know I create my best work when I'm fully invested in a project's mission. I need to be engaged in a project I feel excited about and which tackles topics I feel connected with. Coming from a background in technical and support roles I know I can bring a wealth of knowledge and skills into any future project, but I'm not a singer, a dancer or a painter. Without my own artistic practice I suffer from imposter syndrome – am I meant to be here?
Finding the right opportunities can be hard and isn't a problem which is exclusive to arts practitioners and freelancers. In fact, this issue transcends many boundaries and is something almost everyone will face throughout their life. I see countless options ahead of me – some will flourish and some will be a flop. I need to make a decision about which path to follow because there's only so much time in a day – time is a finite resource and I know I can't pursue every potential avenue at the same time.
So what's holding me back? What is my fear?
"What happens if I pick the wrong path?"
Which one of these paths could build the foundations for a flourishing relationship? Which one of these relationships will lead to a successful project and potentially reoccurring work? Which one of these opportunities will make me feel engaged, energised and, most importantly, happy?
I now realise that over the past few months I've been focusing too much on these questions. Keen to keep the ball rolling I've been placing a bit too much pressure on myself, not just to work out my next career steps, but also to work out the answers to all these questions. Sometimes a little pressure and urgency can provide the push you need in life, but recently the fear has become quite stifling and even immobilising.
How do I plan to address this? Firstly, I'm acknowledging it – the future is scary. There have been quite a few changes in my life recently and it's OK to feel a little lost some days. Secondly, I'm going to try and stop pressuring myself to have all the answers. I need to allow myself the chance to succeed, but also the chance to make mistakes along the way. I need to own my future and not let my future own me.
Where do I go from here? I'm not quite sure, but I have high hopes for the future. I'm really grateful for the support provided by Open Road and Culture Collective allowing me to try new ways of working and widening my breadth of skills. Even if I can't be certain which path I'll end up travelling, I know my journey is just beginning!
By Martin Aitken 2022
Image Credit: James Wheeler (www.pexels.com)