A Visit to Skye
Our project, Safe Harbour: Open Sea, based in Fittie is connected to a Scotland wide project called Culture Collective. There are artists all over Scotland working with people in a range of different communities. Listening, learning, experimenting and creating. We were invited to go and visit some of the Culture Collective artists in Skye, to learn about the work they are doing, how it's going and what they hope will happen next.
This was a great opportunity to spend some time together with other members of our team in a different place, with a fresh perspective and hear about what the artists in Skye are grappling with, some unique to Skye and some comfortingly universal.
We arrived in Skye, dropped our things and headed to a Community Hall to watch a touring theatre production. Martin and I couldn't help but think about the Fittie Community Hall.
"Would that sparkly curtain fit into the Fittie Hall?"
"Do you think the company are touring with the sound system or maybe that belongs to the Hall?" "I wonder how local the rest of the audience are, do you think most of them live near here?"
"How did they find out about the show?"
The show was great, there was a Q&A after and it stimulated lots of interesting conversation on our drive back to the accommodation.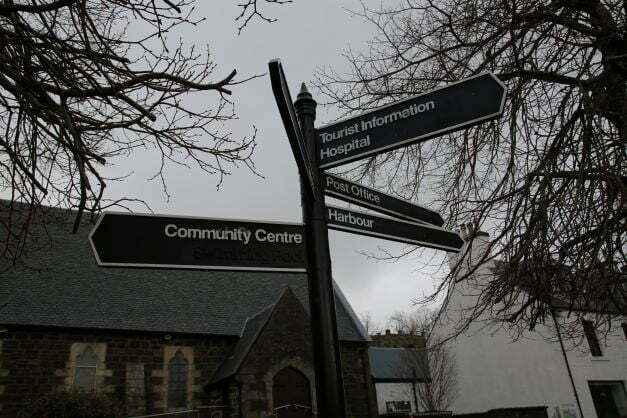 The conversation around use of community halls continued over lunch the next day with the artists based in Skye. They are working with groups all over the island, so this wasn't just a chance for us to meet them, it was also a chance for them to catch up with each other. It was great to listen in on updates from the various project with a range of focuses; music, research, boat building, creative projects in a local school, archiving, talking and listening.
At my end of the table we got talking about the importance, relevance and use of community halls today. How they had been used in the past, how Covid affected the use of them over the last few years and what the use of them might look like in the future. We came up with a lot of questions.
Who "owns" these spaces?
Who "uses" these spaces?
Who are the "keyholders" or "gatekeepers" of these spaces?
How are habits formed to make use of these spaces so that we don't loose them?
Do these spaces need to run as commercial ventures? Who does that exclude?
What is the red tape stopping things from happening?
Who are the people that would make great use the space but don't know it's there or for them?
How can we set up things in these spaces that don't require us to make them happen after our projects finish?
I don't know if we came up with many answers to these questions, but it was great to hear and discuss the similarities in our experiences of the Culture Collective project.
We also visited the Skye and Lochalsh Archive Centre, in Portree and spoke with Catherine MacPhee the archivist there. The Archive, and the stories she told us, were inspiring and exciting. There's a lot of complex history and many stories told from many perspectives.
What gets written down and documented?
What stories get passed on through oral traditions like song or story?
What physical evidence do we have of the past and how much to we today in the present connect with that?
As you can probably tell from the huge number of questions in this blog the trip was inspiring and thought provoking. It was good to spend time thinking about our project in relation to the wider Culture Collective project and useful to have lots more questions to consider upon our return to Fittie.
Blog and Image Credit: Geraldine Heaney

[Featured Image Description: Geraldine's finger pointing down to the tip of a mountain in the far distance.]