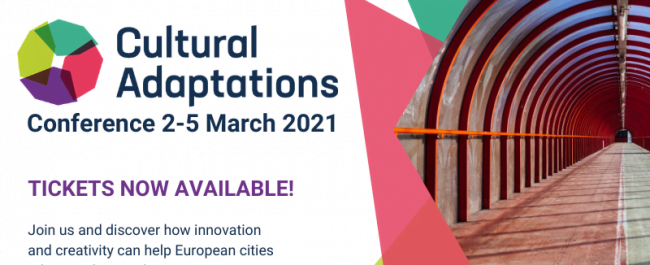 Now available – Tickets for the Cultural Adaptations conference!
The Cultural Adaptations conference, taking place online from 2 to 5 March 2021, will be a unique, international event exploring how cities and regions across Europe can creatively adapt to climate change impacts, and the adaptation challenges faced by our arts and cultural sector.
Book your ticket today and be inspired by four afternoons of keynote presentations, panel discussions and interactive networking sessions with speakers and delegates from Scotland, Europe and around the world. There's also a promise of some Glaswegian style and Scottish hospitality in the form of some fun end-of day activities.
The conference marks the conclusion of Cultural Adaptations: an action research project supported by the Creative Europe programme of the European Union and co-funded by the Scottish Government. More information can be found on the project website, including news, city profiles, and resources for cultural organisations and for adaptation practitioners.
Follow the conference conversation on Twitter and Facebook – #CultureAdapts